Ursula Le Guin's novels, most notably the Earthsea Trilogy, have millions of admirers. Less well-known is her slim volume of verses, Walking in Cornwall (1976). There are just three fairly short poems in the pamphlet, including one on Chûn hill fort and another on "Castle an Dinas and Chysauster Village". Here's an excerpt from the latter.
. . .
There on top of things is Roger's Tower.
Who on earth was Roger? Bishop, prince?
Landgrave of Ludgvan? Emperor of St. Erth?
Why did he build his Tower? No one knows.
It looms up here for miles, a great keep,
a mighty ruin on the vaulting hill;
you get there, and it's all of twelve feet high.
Never was higher. Four fat little turrets
complete its whole ambition.
Two men might fit inside it,
if they had not been eating Cornish cream.
Around behind it, ruinous,
and breaking into yellow gorse-flame everywhere,
the rings, Chun's sister, Castle An Dinas.
So here's the Bronze Age, and in front of it
the Middle Ages. Here's the granite walls
(boulders for base, small stones set vertical)
And here's the granite walls (cut square, set true).
And who were they? and who was Roger? who?
the wind says to the heather.
Elegant, the arch above the door.
And no one knows what Roger's Tower's for.
Place is three fourths of Time.
…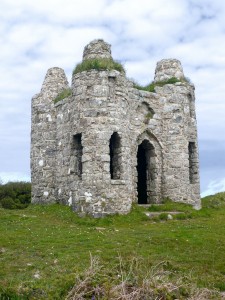 It doesn't seem to me to defeat the point or the poignancy of the poem to note that Roger's Tower, pictured above, is not in fact a vestige of the "Middle Ages," but a late-eighteenth-century folly.