As part of the Past-Place project, I visited Canterbury during the summer, paying a visit to St Augustine's Abbey, which (along with Canterbury Cathedral and St Martin's Church) is listed by UNESCO as a World Heritage Site: http://whc.unesco.org/en/list/496
Although tacitly espousing 'universal' heritage values, as with many UNESCO sites, the heritage narrative of Canterbury's heritage is mostly conveyed through reference to specific events – time-tagged to the arrival of St Augustine in AD597, and the murder of Thomas Becket in AD1170 – and with a story that is contained within distinctly 'national' boundaries, with the 'oldest church in England'. As critics such as Rodney Harrison and Marco D'Eramo have noted in recent years, UNESCO 'World Heritage' status has become a valuable 'brand', suggestive of a process of commodification that stretches between economic, cultural and political value. St Augustine's Abbey is now managed by English Heritage. The entrance fee (£5.20 for an adult) seemed quite steep, but I guess that (in common with the National Trust), the fairly high one-off fee provides a strong encouragement to join the organisation at a fairly reasonable price, and thereby get 'free' entrance to many hundreds of properties across the country. This is a prompt to join a specifically 'national' club, whose sense of comradeship can perhaps be enhanced by the thought that the people who have to pay full fees for each property are mostly international tourists and those who are, for one reason or another, not prepared to be full members of the nation/club.
As I entered the site, however, I noticed an old green sign, mounted on the wall, which seemed to convey a different heritage narrative: "This garden was presented to the city of Canterbury in 1977 by the Trustees St Augustine's Precincts Recovery Fund…. The fund was raised by public subscription with the purpose of making more beautiful the surroundings to the abbey and providing a garden for the enjoyment of citizens and visitors to the city". Almost covered with overgrown ivy – this promised a free and open public space for the enjoyment of all. Surely something that any notion of 'universal heritage value' ought to be signed up to support, one would think!?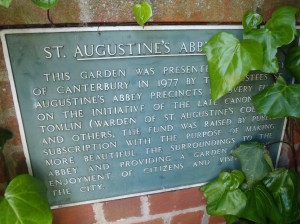 I paid my £5.20 and entered the sunny green parkland to find a controlled and curated space; a directed walk, with specified stopping points, punctuated by interpretation boards. People generally kept to the official path. This is a heritage for the people; public education in a national story – but not really what was promised on the partially-hidden green signpost outside.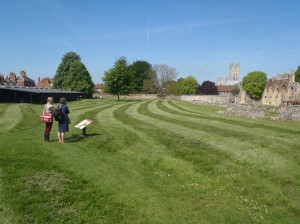 Drawing on the work of Patrick Wright, this seems to be a UNESCO-branded heritage-landscape that is 'already achieved' – it has a supposedly timeless historical identity, which demands only appropriate reverence and protection in the present. Frozen – cleared – cleaned – packaged. Rather than a celebration of 'Canterbury', or of the multiplicity of entangled heritage within the city, this seems to be a site that is bounded off from the city. While I feel that some commentators of the UNESCO process have been fairly over-wrought and shrill in their criticism of the 'brand', perhaps we can take more heed of the green noticeboard, half-covered with ivy. Rather than something that is 'already achieved', we need more open spaces for heritage to be produced by a heterogeneous society that makes its own history as it moves forward: a for the enjoyment of citizens and visitors alike.