Emerging from the King Richard III Visitor Centre, I walked across Peacock Lane to St. Martin's Cathedral. A small placard at the entrance advised (or warned?) the visitor that, though Richard III belonged to an era of turbulence and violence, "Leicester Cathedral is called to be a place of peace."
The peace of the interior was inevitably somewhat disrupted by the ongoing preparations for the installation of Richard III's tomb and the interment of the King in March of next year. Much of the building is off limits and screened off. I had not grasped the extent to which the whole structure and meaning of the cathedral is being reorganized around this controversial royal tomb. Although architectural plans and artists' drawings were everywhere on display, I found it difficult to get a sense of what the cathedral would look like when the work was finished (or, indeed, what it had been like before the work began).
One thing was absolutely clear: the new tomb will have a huge impact on the existing memorials within the church. Leicester Cathedral has few ledger stones, but wall memorials are reasonably abundant. Many will have to be moved; some may be lost. I noted a long wooden memorial laid out on a trestle, like a patient waiting to be wheeled into the operating theatre — or awaiting the last rites.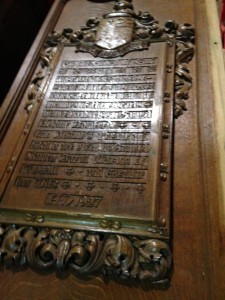 I asked a guide what would happen to the monuments that had to be moved, but learned only that "some of them will stay within the building." Of course, massive restructurings of this kind have happened often enough in the histories of many cathedrals. Arguably, the upheaval going on in Leicester offers a unique contemporary window on what it must have been like to work or worship in a Victorian cathedral when Gilbert Scott was in town.