An unanticipated extra on my trip to Leicester was the sight of the newly laid out Cathedral Gardens. In keeping with what's going on both within the cathedral and across the road in KRIII, repositioned memorials to the dead are a central feature. Amidst the low hedges, planted beds, and benches, eighteenth and nineteenth century gravestones have been laid out in various eye-catching formations.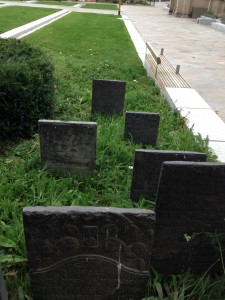 All of the headstones are of a similar thickness and grey hue, though they vary in height and contours. With one stone often standing no more than 18 inches behind another, they are obviously no longer fulfilling the function of marking individual graves. Rather, they resemble clusters of prehistoric standing stones — perhaps in particular the similarly thin and grey Callanish Stones of the Outer Hebrides.
The placement of some of the stones in domino like rows is clearly designed to echo another new feature of the cathedral yard. Towards Stillness is an installation of twelve standing steel plates depicting various stages in Richard III's voyage of death, burial, disappearance and rediscovery.
Unlike Towards Stillness, the gravestones in the cathedral gardens do not involve an explicit reference to Richard III (although his statue, moved recently from another part of the city, stands close by). But what exactly are they doing, referring to, signifying? They seem to be standing for "memory," and for "oldness," and also – if the phrase means anything – for "placeness." At the same time they are clearly saying something about forgetting. I was left wondering if reading the inscriptions on these stones would not be an impertinence to the individual dead they have emphatically ceased to commemorate.