I have been laid up these last few weeks with a ruptured Achilles tendon. On the one hand, this experience has made me reflect on the continuing heritage of Greek myth – in that the 'Achilles tendon' has to be written as a proper noun (and Microsoft Word automatically corrects it). On the other hand, it gave me a chance to read the newspaper every day from cover to cover. On heritage-related story that caught my eye connected to the Cecil Rhodes statue in Cape Town: what it means, and what to do with it.
Cecil Rhodes was a mining magnate and arch imperialist in Southern Africa towards the end of the 19th century (http://en.wikipedia.org/wiki/Cecil_Rhodes). As with many imperialists, he was commemorated and memorialised throughout this region with statues, buildings and even entire countries being named in his honour, as well as within the Metropole with, for instance, the Cecil Rhodes Memorial Museum in his birthplace in Hertfordshire, UK. Not surprisingly, recent decades have seen a good deal of re-naming practices taking place – with the 'Rhodesias' being renamed as Zambia and Zimbabwe, and his Memorial Museum being prosaically renamed as the Bishop's Stortford Museum.
Two decades after the end of apartheid in South Africa, however, a Cecil Rhodes statue from the 1930s still sat on the campus of the University of Cape Town, and became a focus of protest. A campaign that involved the daubing of excrement over the statue and various other site-centred protests in Cape Town, alongside a social media effort, through Facebook and Twitter brought worldwide media attention – which I have followed in newspapers.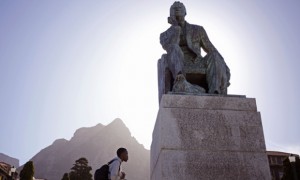 Within Cape Town, the University Authorities first held a ballot of students to decide the statue's fate: 60% of those voting were against the removal of the statue – but this came alongside an acceptance that the simple holding of a ballot hardly scratched the concerns of the protesters over the legacy of imperialism in Africa. It seems that the issue has triggered a wider and deeper debate over issues of heritage and power. On the 9th April, the University of Cape Town removed the statue, though I cannot find out what the longer term plans are. See newspaper articles for more information:
http://www.theguardian.com/world/2015/mar/20/students-attack-cecil-john-rhodes-statue-south-africa-university-cape-down-questions-race
http://www.theguardian.com/commentisfree/2015/apr/13/cape-town-remove-cecil-rhodes-statue
"Goodbye Cecil John Rhodes20 (16481463023)" by Tony Carr – Goodbye Cecil John Rhodes20. Licensed under CC BY-SA 2.0 via Wikimedia Commons
More widely, the controversy has led to further reflection and protest. Students at Oriel College, Oxford, where Rhodes was a scholar, have called for the removal of their own statue, but I feel that this event points towards a larger issue of what to do with Imperial statues worldwide. In itself, this is a much debated concern, with the experience of Soviet-era statues in Eastern Europe providing an important prompt for an on-going debate that has an interesting history in itself (see Yvonne Whelan's work on the changing statuary in Dublin, before and after Irish independence, for instance). Indeed, Laragh Larsen has written a very good paper about the curation (and moving) of colonial era monuments in Kenya (Journal of Historical Geography, 2012). But the use of a public vote to help make decisions on the issue reminds me more of Lisa Johnson's work on the statue of Jan-Peter Coen, in the Dutch town of Hoorn (International Journal of Heritage, 2014).
Jan-Peter Coen was the Governor General of the Dutch East India Company in the early 17th century, and his statue has long stood in the central square of his home town of Hoorn. In 2011, there was growing pressure to remove the statue, and in 2012 the local Council added a (slightly timid) section of text that criticised Coen's involvement with the slave trade, and genocidal activities. The protests did not cease, however, so the town's Museum held an exhibition on the controversy, which included putting the statue on formal 'trial'. Visitors were asked to vote on whether the town should keep the statue, and as things turned out, 60% voted to keep it, not as a celebratory memorial, but as a warning – with a stronger critical statement of text added to the plaque.
I thought it was interesting that the proportions of 'keep the statue' votes were very similar to that in Cape Town, where the statue was removed despite the narrow vote to keep it – but I can't help thinking that the context of the votes were quite different, and the implication of the decision to keep/not keep was entirely different.
The role and potential for critical and creative destabilisation of hegemonic heritage narratives for an imperial statue in Holland seems to be entirely different to the on-going meaning and implication of an imperial statue in post-Apartheid South Africa. Indeed, maybe these events point towards a fair and defendable practice of how it is possible to 'decommission' heritage in certain circumstances. In Holland, the maintenance of JP Coen's statue as a 'warning' and 'critical reminder' suggests a continuing and progressive use-value of the statue. But, as Johnson herself implies, we need to be careful that the reflection on the 17th century 'deep-past' of Dutch colonial endeavour does not mean that more recent colonial stories (such as the Indonesian War of Independence, 1945-9) are skimmed over or ignored in the process. What these stories show, therefore, is how crucial it is to uncover and narrate the open-ended 'biographies' of heritage – their meaning in the present for different populations, as well as their future potential.