As part of the Past-Place project, I visited Northumbria a few weeks ago, staying on the English side of the River Tweed, near Coldstream. This is "1513 Country", through which buildings, villages, and entire landscapes are 'time-tagged' according to the date of the Battle of Flodden Field, for which 2013 marked a 500th anniversary.
2014 has seen a good deal of attention directed at the 700th anniversary of the Battle of Bannockburn – Scotland's most famous victory – with a £10million refurbished visitor centre being opened by Alex Salmond in April. The 500th anniversary of Scotland's most famous defeat, in which King James IV and many of his leading nobles lost their lives, has not received such a high profile.
The Battlefield site lies on the English side of the border, and forms the centre piece in the recently established multi-site Flodden 1513 Ecomuseum. Initially developed in France to protect vulnerable rural communities, the ecomuseum concept has become increasingly popular in recent years, providing a means through which to channel a variety of community-led initiatives and encourage multi-agency co-operation in rural areas. The resulting 'museum' is a slightly ambiguous mix – of several stories and interpretations being loosely encapsulated under a single 'time-tagged' umbrella of "1513" – a strangely static way of dealing with temporality. Under this umbrella, however, there are several narratives:
At nearby Etal Castle, there is a permanent display by English Heritage. Essentially, this is a story of two armies confronting one and other on the battlefield, with individual stories mostly taking a back seat amidst the over-arching 'battle of nations'. The imaginatively drawn battle scenes 'helpfully' depict soldiers bearing either the red cross of England, or the blue saltires of Scotland, so it is easy to tell who is who!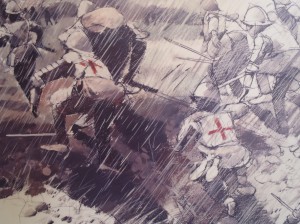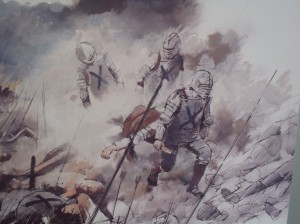 At the nearby Flodden Peace Centre, however, there is a vigorous attempt to use the Flodden Battlefield story as a prompt for contemporary practices of peace and reconciliation. A colour coded garden leads the visitor through moments of 'clash', 'loss and desolation', and towards 'dialogue', renewal and reflection.
The red garden: "There is a time for confrontation. Things must be said. This is a rant space"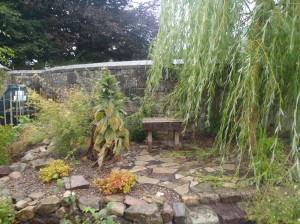 The place of reflection: "A quiet seat for prayer and reflection"
The centrepiece of the Flodden Peace Centre Garden is the Peace Plough, by artist, Nick Watton Drew: "barbed wire sprouting vice leaves symbolises the end of wars and the end of all barbaric fences of imprisonment and separation"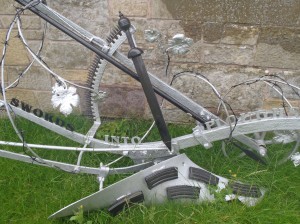 Meanwhile, at the actual Flodden Battlefield site, the Remembering Flodden Project has established 'The World's Smallest Visitor Centre' in an old BT Phone Box: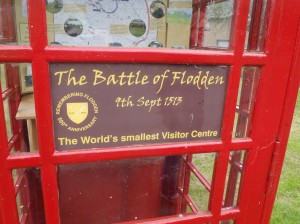 In many ways following the example of the Flodden Peace Centre, rather than seeking to glorify victory in a triumphalist manner, the actual battlefield site, trail and Telephone Box-cum-Visitor Centre tries to convey the battle as one of both 'victory and despair', encouraging visitors to reflect on the lives of ordinary people who were caught up in the battle, and prompting notions of reconciliation.
In many ways, this is a laudable attempt to 'do battlefields differently' – conveying them not as victorious scenes set in aspic to be celebrated through ritual commemoration, but as active and present-centred touchstones through which to think about the nature of conflict. However, I do feel that the pacifist tone can become a little over-wrought, particularly in some of the petty sniping at the Bannockburn juggernaut. To quote the Remembering Flodden Project leaflet: "To mark the 700th anniversary of the famous battle in 2014, Bannockburn now boasts a multi-million pound visitor centre. We were not so fortunate, but the disused phone box was purchased from BT for £1 and now helps to commemorate the 500th anniversary of the Battle of Flodden"
In some ways, the hard sell to visitors that they should reflect on 'peace' rather than 'war' comes across as a form of 'pacifist aggressive behaviour' – that debate might be closed down through a command towards only peaceful reflection. Perhaps this might be seen as another 'casualty' of the time-tagging paradigm: that if everything is channelled through the prism of "1513", then practices of perceived injustice and dynamic power relations are over-looked.
I really liked the Remembering Flodden material, but there is sometimes a fine line between seeing a message of peace as being a prompt for present-centred reflection, and using a 'message of peace' in a slightly triumphalist 'holier-than-thou' manner. And anyway: sometimes it is good to scratch at scabs!